Support Montara businesses. The list here is modest, but help us out (send mail to

[email protected]

) and we'll list as many as we can.
---
---
Cafe Gibraltar, El Granada (formerly of Montara). (650) 560-9039. Highly recommended.
In our opinion, the best food on the entire Coastside. Well worth the price. Mediteranean food with a bit of fusion with California cuisine. We'd eat there a lot if we could afford to.
---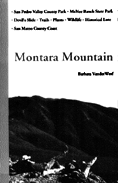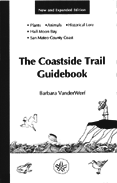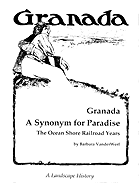 Books describing the beauty and history of the area, by Barbara VanderWerf.
---
Wilson's Appliance Service
Washers, Dryers
Refrigerators
Dishwashers
Microwave ovens
Ranges, Ovens
Disposals
Prompt, Professional Service
Service Area: Montara through Pescadero
728-5844

[email protected]



---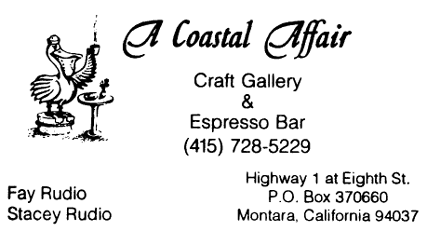 Business and property for sale!
---


Raymond & Emily Hoche-Mong
Proprietors
650-728-5451
Click here for more information.
---
---
---
Princeton Art Studio
Kathy Bibby
182 Harvard Avenue
Princeton
650.728-2059
Custom Matting, Framing & Restoration
Tuesdays 2pm - 6pm
Thursdays 10am - 6pm
Saturdays 10am - 5pm
Other times available by appointment
---
---
Kathy Victorino
650-726-2833 Phone 650-726-7322 Fax
Your office or mine, weekly/bi-weekly/monthly bookkeeping activities


A/R A/P
Month/Quarter Reporting
Sales Tax Preparation
Payroll

Specializing in QuickBooks
Minding your books so that you can mind your business...
Please visit our web site at http://www.balancingthebooks.com


Spread Spectrum Scene Online, the only publication dedicated to Spread Spectrum (SS), is targeted to the professional in this field. SSS Online is The Wireless, PCS and Advanced Digital Communications Internet Magazine and Technical Information Resource. SSS is a service of RF/SS, a leader in the development of RF, Digital Data Communication and SS Products. SSS is based in El Granada.
---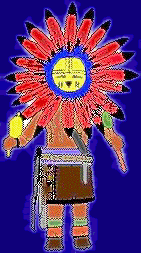 Got a business you'd like to see here? We welcome your additions at [email protected]