for
Candidate for two-year term
---
Appointed Incumbent, for two-year term
---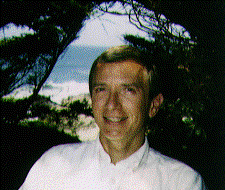 ---
Capable - Concerned - Committed
---
This Web page tells why Paul Perkovic merits your vote this November 7. Please take a moment to review Paul's public positions and political philosophy as they relate to current coastal projects, including Highway 1 at Devil's Slide, the Harbor Fishing Village project, the SAM plant expansion, and Half Moon Bay's North Wavecrest Redevelopment project.
You may also want to read Paul's brief statements in support of other candidates and Measure H, or send your comments or questions to Paul electronically to begin a dialog on these issues.
---
Who Is Paul Perkovic?
Paul is a database systems expert, having worked in program development, sales & marketing, and open systems standards during his 30 years in the computer industry. He currently works at Oracle Corporation. After growing up in the mid-West, he attended Harvard and remained in the Cambridge and Boston area until 1989. Paul and his partner have lived in Montara for four years and plan to retire in their home here.
What Does He Stand For?
Paul believes that government should serve the public interest, not special interests. Policies must promote long-term health and sustainability of the community and the global environment, rather than fostering get-rich-quick schemes that leave cleanup costs to future taxpayers. Local control of local decisions by local residents, who are directly affected and must live with the outcome of their choices, is the key to effective government. Distant control by lobbyists who exploit communities they never visit, never understand, never see suffer, is a certain recipe for disaster.
Why Is He Running?
Our political system needs representatives who are accountable to their local community. Paul brings the average citizen's viewpoint to local government. He regularly attends Mid-Coast Community Council and San Mateo County Board of Supervisors meetings. He brings a voice of reason and cooperation, based on a careful study of underlying issues, to all discussions.
---
Examples of Paul's Positions on Coastside Issues
We face many complex, inter-related decisions as we move forward in our community. Preserving the best of our existing environment while planning for future needs inevitably brings forth conflicting opinions about the right solution. Paul wants to preserve the spectacular natural beauty of the coastside and maintain the relaxed, semi-rural atmosphere of our communities. This includes development that complements existing structures and serves community needs. Consistent decision-making is grounded in using widely-accepted principles that are fairly applied to each situation. Paul's political principles are best illustrated by example, as they apply to each of the issues we face in our community. You may not agree on every issue, but you should feel comfortable that Paul's positions on the Mid-Coast Community Council and the Montara Sanitary District spring from fair and consistent application of underlying principles, rather than special interest favoritism.
Current Status
Paul has taken action in each area listed, either through letters to Congress, the San Mateo County Board of Supervisors, or CalTrans, or through articulate comment during public hearings. The current status of each issue is listed below for your convenience. If you would like to become personally involved, Paul will be pleased to help you locate an appropriate community group or political contact person for that particular issue. Or you can consult this List of Resources.
Please Also Support -
for Mid-Coast Community Council
---
Ric was overwhelmingly selected as the Council's choice to fill a recent vacancy; his appointment was blocked at the San Mateo County Board of Supervisors level.
---
David is an appointed member of the Council. His financial background and expertise assist the Form of Government Committee currently exploring alternatives for the community.
---
for Montara Sanitary District
Kathryn has been active in Mid-Coast Planning and Zoning Committee work, especially as it affects development density and water and septic system requirements.
---
Preserve your local Fire Department! Tax diversions, loss of state Proposition 13 replacement funds, expiration of the current Special Assessment District, and mandated equipment will reduce the Point Montara Fire Protection District operating funds by 35% if this measure fails.
---
Paul is always interested in the opinions of his neighbors on the Mid-Coast about issues facing the community. You may leave a message or ask a question by phone, at 728-9500; through e-mail to perk@montara.com; or by regular mail:
Paul Perkovic
Post Office Box 371149
Montara, CA 94037-1149
This Web page at "http://www.montara.com/Election95/Perk.html" last revised 10/19/95.

---
[Return to Midcoast Community Council Index]
[Mid-Coast Elections Table of Contents]
[Montara Home Page]